Share this review

I had concerns upon visiting about the conditions, and saw my adoption as 'rescuing' this gorgeous pair from the urine-stained feet, matted fur, sawdust-filled hutches piled high, tiny water bottle life. Their nails needed cutting, the hutches were not big enough for rabbit pairs, and the lack of hay concerns me heavily.
The volunteer was friendly and seemed very happy with our plan to adopt them the next week - I explained I knew how to meet the rabbit's needs properly and the volunteer was friendly, although didn't know anything about their medical history off-hand, considering this was a boked appointment to meet these specific rabbits.
After being told verbally on the day I met them that they would be reserved for me, I'd be emailed a form and could arrange to pick them up next weekend... I heard nothing. I contacted them on the Thursday, and was told "they'll be ready in four weeks." No explanation. No apology for miscommunication. Then the owner kept pushing back their collection date, coming up with new reasons, and ignoring every request I made for information on how to pay a donation, if I could see the forms, the genders of the rabbits, when their vaccinations were due etc. On their website, the other rabbits had "updated March/April" on their profiles, and my two hadn't been updated since September. There are some people who have clearly been allowed to adopt rabbits from them before: their social media seems to have some good reviews. This pair have been at the centre nearly a year. I now presume the owner wants to keep them and just didn't think to remove them from the website. The people at this second rescue centre were not surprised by my experience once I shared the name of the place, and said they like to take the rabbits to schools: which may explain why they won't let this beautiful pair leave. I just wish they actually groomed them and gave them accommodation that's suitable, and hadn't wasted my time for 7 weeks when they clearly weren't going to let these rabbits go. This was March-April 2023, and I've also been contacted by someone who tried to adopt this pair in August 2022 but described the owner as being 'abusive' and gaslighting them. Their charity reporting is overdue by 1081 days so I also wonder if they are actually spending money on the upkeep of their animals.

Furlock Holmes Animal Care
A registered animal rescue charity based in Whitchurch, Hampshire. Specialising in rabbits and guinea pigs, they take in unwanted, abandoned, neglected and mistreated animals with the aim of rehabilitating and rehoming them.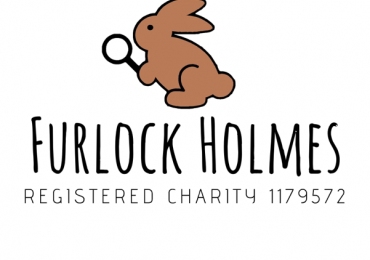 | | |
| --- | --- |
| Charitable Status | Registered charity: 1179572 |
| Visitor Options | Visit by appointment only please |